Perfect evening calm, Loch Mallachie
Loch Mallachie is really just a slightly deeper bit of the surrounding bog, close by the famous Osprey reserve of Loch Garten in Strathspey.  Stunted, characterful pines grow out from the marshy edges, and from the small island.  The loch is home to many birds which breed here in the summer, including Scandinavian species like Goldeneye and Slavonian Grebe.  I have also heard the haunting echoing cry of a Diver here.
I biked there on the forest trails one November afternoon, enjoying the calm and relative sunny warmth.  I have rarely seen the loch so absolutely still, the only ripples being from my shoreline footsteps transmitting through the boggy ground.
Sunset Pines, Loch Mallachie
As the sun sank and the colour developed, the atmosphere became so peaceful, still and deep.  I felt a deep connection here through the sense of space.  However, it was far from silent, with a clamour in the distance from thousands of geese making their evening greetings.  Small groups circled above the forest, honking their way.  Interestingly, the Sanskrit word for goose is also used for the breath, and to represent the soul, the breath and the soul being intimately linked.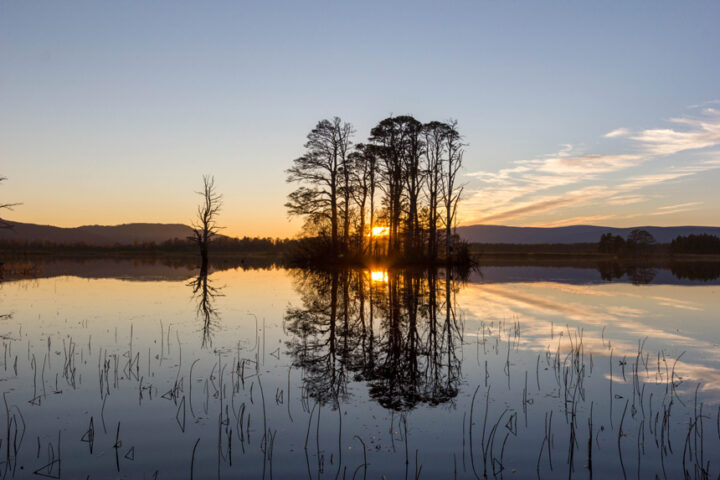 Sunset, Loch Mallachie
I stayed long after sunset watching the developing colours, just enjoying the peace and the surrounding atmospheric 'soundstage' of various birds calling across the water.
Reflections after sunset
And then it was definitely time to limber up, and bike home through the (now very dark and definitely atmospheric) forest, through eerie pockets of mist, only waist-high but so thick I couldn't see the track below me.
"Calligraphy of geese
against the sky-
the moon seals it."
– Yosa Buson, Japanese poet, ? – 1783